Bruce Arians Says Breshad Perriman Is Doubtful; Ryan Jensen Handled Walk-Through Practice
January 19th, 2022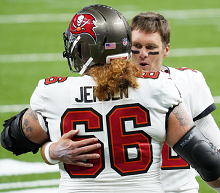 Bucco Bruce Arians was talking about his team tonight.
Of course, Joe was listening, as Joe is obsessed with all things Bucs 1,440 minutes per day and 365 days per year.
Arians mentioned the injuries to his two big Pro Bowl guns on the offensive line, Tristan Wirfs and Ryan Jensen, both with ankle injuries suffered during Sunday's clobbering of the Eagles.
There was no upbeat tone in Arians' voice.
"Ryan was able to do the walk-through today, and I think they're both going to go til Friday, and we'll see what we can get out of them, if anything. And young guys are going to have to step up," Arians told SiriusXM NFL Radio.
Arians added it would be "really, really hard" to face the Rams with young offensive linemen in for the Pro Bowlers.
Also on the injury front, Arians said "it looks like [receiver] Breshad Perriman is going to be really, really questionable"  with his bad hip. Arians later called Perriman "very, very doubtful" and fellow receiver Cyril Grayson "very iffy" for Sunday.
Man, Joe sure winced when Arians was talking and it became clear that Wirfs couldn't handle a walk-through.