Bruce Arians Says Antonio Brown Refused To Play
January 2nd, 2022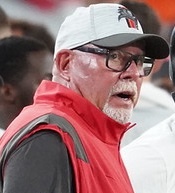 Joe suspects Antonio Brown is going to deny this.
But the apparent official word from Bucco Bruce Arians on why Brown melted down, stripped down and ran off the field in the third quarter today is because Arians asked Brown to play and he refused. And then, apparently, Arians asked again, got another rejection and launched Brown.
Arians wouldn't talk about Brown with assembled media after the win against the Jets, and also on the Buccaneers Radio Network, but he was yapping to Jay Glazer of Fox Sports.
Glazer shared the interaction on Twitter (seen below).
Joe can only imagine how Brown might spin this later this month as he looks for a job with a new team. Will Brown say Arians misunderstood him, or that he expressed being hurt?
Might Arians calm down, get a nudge from Tom Brady, take a team vote and subsequently invite Brown back? After today, nothing would shock Joe as it relates to Brown and the Bucs.
Just talked to Bruce Arians who said he was trying to get AB to go into game & AB refused. Tried again Brown refused & Arians told him to get out. On if he saw AB take his jersey off.

"Yeah, I did. Never seen anything like it in all my years." @NFLonFOX

— Jay Glazer (@JayGlazer) January 2, 2022