Bruce Arians Is Clear: I Want Leonard Fournette To Return
January 25th, 2022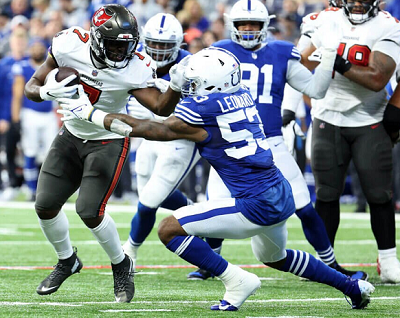 There was no wavering in words or tone.
Bucco Bruce Arians is sure he wants at least one of his free agents to return (no, Tom Brady is not a free agent).
Arians has swiped right on Leonard "Playoff Lenny" Fournette.
Did you know Playoff Lenny's nine career postseason rushing touchdowns are tied with Hall of Fame playoff heroes Jerome Bettis, Larry Csonka and Tony Dorsett?
It's true. Playoff Lenny has proven to be a crunch-time running back who can run and block and catch, even hauling in all nine of his targets Sunday in the groin-stomp loss to the Rams.
"Watching him in practice, he was going to be back to Playoff Lenny," Arians told the Buccaneers Radio Network yesterday. "He played a whale of a ballgame. …  I think he has a great future. I hope it's here."
Fournette turned 27 years old last week. He's in his prime and coming off an impressive regular season with 812 yards rushing and 59 receptions with 10 combined touchdowns for a team that doesn't run the ball much.
Joe agrees with Arians. Re-sign this man!