"As Tough As He Is, I Think There's A Chance."
January 17th, 2022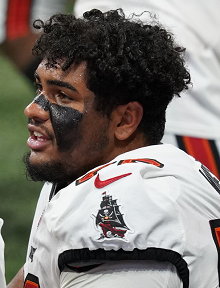 The early review on right tackle Tristan Wirfs' bad ankle is in.
Head coach Bucco Bruce Arians said today he expects Wirfs' status to be unknown until Friday.
"As tough as he is I think there's a chance. He's in a boot right now," Arians said.
Damn, Joe didn't want to hear about the dreaded book. Usually a boot equals a few weeks off.
But like Arians said, Wirfs is a tough guy and Joe expects he'll play Sunday. What that means for Wirfs gutting through Sunday and the NFC Championship game, that's another story.
Sadly, Arians added that backup right tackle Josh Wells has a quad issue and is questionable for Sunday.