A Rare First For Tom Brady On The Line Today
January 9th, 2022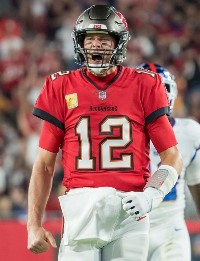 It's hard to believe that through 16 games this season Tom Brady has achieved something he never experienced previously.
Brady leads the league in fewest sacks per pass attempts. His rate currently sits at just 3 percent. So, for the math-challenged, Brady is dumped three times for every 100 times he tries to throw a pass.
Mr. Seven Rings has never led the NFL in that category. Never.
In 2009, Brady was sacked on 2.8 percent of his attempts, but that did not lead the NFL and he was attempting about 10 fewer passes per game than he is now.
It's no leap for Joe to type that the Bucs' offensive line is the best pass blocking unit Brady has experienced. They're a massive reason he is averaging 311 yards passing per game, which also leads the league.
It's important for the Bucs to win today, but far more critical is protecting Brady. Joe is extremely confident that will happen — just as it did against Carolina two weeks ago.