"We Had 20 Unblocked Blitzers That Didn't Get There"
December 14th, 2021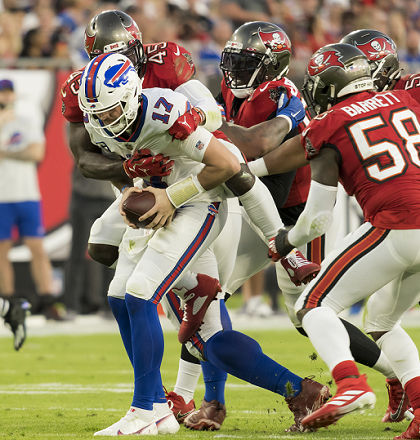 It sounds like the Bucs might be drafting an explosive tackler next spring.
The emotion in Bucco Bruce Arians' voice this evening was telling. He didn't like a big chunk of what he saw on defense Sunday against the Bills.
"We had 20 unblocked blitzers that didn't get there!" Arians said on his streaming show at Buccaneers.com.
Arians went on to praise the "blitz plan" of defensive coordinator Todd Bowles.
No NFC team blitzes more than the Bucs. They've sent the dogs 208 times this season. Next in the conference is Washington at 159. So it's critical for Tampa Bay to have success there.
Hearing Arians say the Bucs had 20 dudes with a free shot that didn't get home, that tells Joe how elusive Bills QB Josh Allen is. But it also is a tip-off that the Bucs might need to invest in a new blitzer.
Arians has said over and over again this season that guys getting after the quarterback haven't closed the deal. Joe doesn't recall hearing that as often in 2020.
Lavonte David told Pat McAfee today that he didn't realize how fast Allen is. Still, Joe thinks the Bucs have to finish better on their blitzes. So does the head coach.