Up Goes The 2022 Salary Cap
December 5th, 2021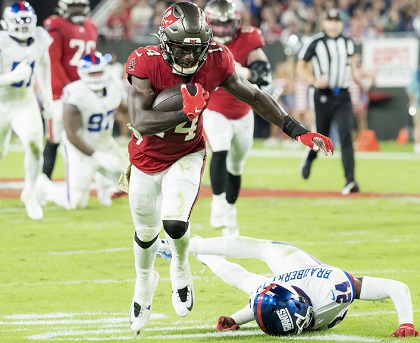 Ring the bell! The Bucs — and everyone else — will have a lot more cash to spend on free agents and in-house players next season.
Per NFL.com, the salary cap is expected to be $208 million in 2022. That's a whopping $25.5 million bump from this season. And as Mike Florio of ProFootballTalk.com noted, it's likely going higher than that.
A faction of Bucs fans is obsessed with NFL accounting and all the fuzzy math for which NFL general managers are responsible. Joe's interested but hardly a lunatic with a calculator at all times.
Chris Godwin will be the Bucs' top-dog free agent this offseason. He's currently playing on the franchise tag and certainly will be seeking $20 million per season with a load of guaranteed money. Ryan Jensen will want to get paid again, and so will Jason Pierre-Paul and Ndamukong Suh (if he doesn't retire).
Will Rob Gronkowski want a fat raise? He might deserve one by the time 2021 is in the books.
The Bucs also are going to have a huge decision to make on Alex Cappa and Carlton Davis, who has missed 14 games in his four NFL seasons. Joe suspects the Bucs would love to select a cornerback with a premium 2022 draft pick.