Tom Brady "Sportsperson Of The Year"
December 8th, 2021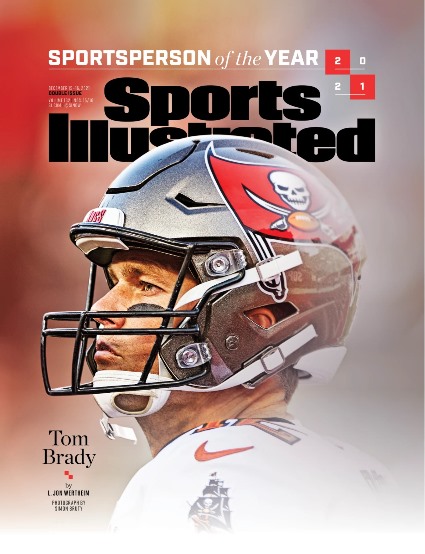 Remember Sports Illustrated? Joe is pretty sure some readers actually do not.
It was a real thing in the late 20th century. Men and boys alike couldn't wait for the weekly magazine to hit the mailbox. Yes, this was in the days before the internet, smartphones, cable TV and at one point, before touchtone landline phones.
And the February "Swimsuit Issue," well, it was the publication's biggest seller and its most controversial. Constipated school administrators and perpetually angry nuns across the country would freak out and try to ban the magazine from school libraries.
Now, Sports Illustrated is little more than Albert Breer, Jimmy Traina and quality videos of SI Swimsuit models like Jared Goff's jiggly girlfriend Christen Harper.
The former sister magazine of "TIME," Sports Illustrated began "Sportsman of the Year" in 1954. It was meant to be sort of a sports version of TIME's "Man of the Year."
The honor is still somewhat still important, even though the magazine is a virtual afterthought. Last night, the publication announced Bucs quarterback Tom Brady was this year's recipient.
Yes, someone from Tampa Bay was named "Sportsperson of the Year." Told ya Brady brings relevance to the Bucs and to the area.
As Jon Wertheim typed, Brady gets the award basically for three things: The first is pulling a Moe Howard on Father Time and poking him in the eyes and slapping him across the grill. The other is that Brady and his magic single-handedly turned around in one season a woebegone franchise into a Super Bowl champion.
The third reason? At age 44, Brady might be better than ever.
Arians' offense attacks deeper than most—no risk it, no biscuit being the operative phrase. In 2020, Brady's air yards per intended pass, a measure of how far downfield a quarterback throws on average, jumped to 9.3 yards, a 22% increase from his last season in New England. Yet, despite the higher degree of difficulty, his completion rate also rose, from 60.8% to 65.7%.

He's doing it at a time when defenders have become freakish in their own right. From 2000 to '03, Brady's first four seasons in the league, 10 defensive linemen clocked in under 4.7 seconds in the 40-yard dash at the NFL's scouting combine. Over the past four years, 41 have done so. That has led to an emphasis in athleticism among the new class of quarterbacks. Indeed, according to Next Gen Stats tracking data, through Week 12 of the 2021 season only Steelers vet Ben Roethlisberger was covering less ground per play (7.2 yards) than Brady (8.0).

Retirement has its appeal—golf, time with the family, business opportunities—but it is outstripped by the lure of continuing to work. And so it is that Al Michaels, 77, the voice of NBC's Sunday Night Football, has consulted with and confided in Brady. Their pregame broadcast production meetings, once filled with football shop talk, now veer toward weightier topics and shared experiences. Says Michaels, "When I see Tom, I think, Damn, you can go at that level no matter what you're doing, and I feel like I can. It's just a cool thing, the kind of symmetry."
As Joe wrote yesterday, savor every moment Brady is wearing a Bucs uniform. We have never seen an offense like this and may not again. And Joe is pretty confident we will never see a guy like Brady again.
The fact this is his second "Sportsperson of the Year" award is sort of a wow-moment in that you would think he would have had more.
How big is Brady's impact throughout the Bucs' organization and beyond the walls of One Buc Palace, Joe remembers a rhetorical question asked by Pat Kirwan of SiriusXM NFL Radio a few weeks after the Bucs won the Super Bowl.
"How much money has Tom Brady made for people in Tampa?"