"They Don't Make Mental [Mistakes]"
December 3rd, 2021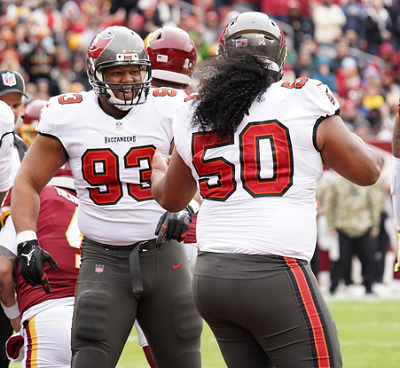 The numbers show the Bucs of the Bucco Bruce Arians era have perhaps the greatest rushing defense in the history of the NFL.
But why?
It's no exaggeration. The run defense is that dominant, better than it was during the Buccaneers' glory years. There has been no weakness or a single catalyst.
And don't tell Joe it's all Vita Vea. The guy missed 13 of 20 starts last season. Fans know the players and the coordinator, but what's the difference between this run defense and so many other great ones.
Falcons offensive coordinator Dave Ragone weighed in on that this week, via the Atlanta Journal-Constitution.
"They are physical," Ragone said. "They play tough. They play fast. They are very aware of what their calls are, and they don't make mental (mistakes). … There are some pretty impressive guys up front who are hard to move with some great linebackers, with great speed with a secondary that knows how to fit the run."
Joe is dialed into the mental errors aspect of the Bucs success in run defense. It's a veteran front-7 that rarely screws up. That part of their dominance is almost never mentioned.
So why was the Falcons offensive coordinator talking about the Bucs' run defense? Because Atlanta finally had a good day rushing the ball (Sunday versus Jacksonville) and now they're going to try to punish the Bucs on the ground.
LOL! Good luck with that.