The Morning After
December 20th, 2021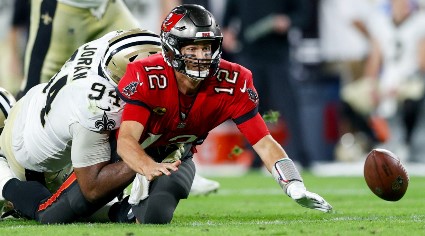 What an ugly night and an ugly morning. Time to go over the sad game last night. Hope you have your caffeine ready.
And For A Chance To Win The NFC South — FACEPLANT
Joe cannot get too angry with the Bucs for losing last night. Who among us thought this game was going to be easy? The Saints have a damn good defense and when you lose your two best receivers, two of the best in the NFL, and you lose your best running back and the team you are facing has a French Quarter voodoo hex on you to begin with, this outcome really wasn't a shock.
So with the Cardinals losing to the Lions — the Lions! — the Bucs had an awesome chance to at least take a step to maybe having the No. 2 seed or No. 1 seed and winning the NFC South, and the Bucs offense dropped one of its biggest and most historic deuces at midfield of the Stadium on Dale Mabry Highway.
Not only did two of the best Bucs players not bring their A-games, neither did the Bucs' offensive assistants. And the Bucs' offensive line, the best in the NFL, played awfully mediocre.
Joe just hopes that all the injuries to major players (Evans, Godwin, Playoff Lenny, Lavonte David) the slimy Saints didn't break the Bucs.
Amber Alert For O.J. Howard
Did you get one of those annoying, jarring, nerve-racking alarms on your cell phone last night about 10 p.m. like Joe? You know, one of those Amber Alerts? This time it was looking for O.J. Howard.
The former first-round pick of a tight end has been getting less and less snaps. In the first half, with the Bucs down Mike Evans and Chris Godwin and yapping Cam Jordan all of a sudden making Tristan Wirfs look mortal, Joe was waiting for Howard to get on the field.
With Rob Gronkowski about the only legitimate passing weapon for Tom Brady, Joe thought the Bucs would bring in Howard to help Alex Cappa and Wirfs on passing plays and chip block Jordan.
Joe could be wrong but Joe sure saw a lot of Cam Brate on the field. Howard? He got just 10 snaps and might as well been up in the press box elbowing dudes away from the free halftime bananas foster.
The fact the Bucs damn near had to pull fans out of the stands to play receiver and Howard was nowhere to be found speaks volumes to Joe.
Here are Howard's offensive snap counts the past three games entering the slimy Saints contest: Indianapolis 9, Atlanta 6, Buffalo 5.
For people who don't think the Bucs can afford both Evans and Godwin next year, think again. Just divvy up Howard's contract between the two of them, make them both happy and keep them in Tampa Bay.
It's pretty clear the only way Howard is back with the Bucs (unless the team is hiding an injury) is if Howard agrees to the veteran minimum.
With all the injuries last night and Howard firmly planted on the bench, it appears Howard is renting a penthouse in Bucco Bruce Arians' doghouse.
RoJo Continues to Frustrate
Yeah, RoJo had a nice, long run last night. But…
Joe has a strong hunch the Bucs' nearly three-year-long effort to build up Ronald Jones' confidence has just about hit the ceiling.
Why does Joe say this? Because RoJo continues to do dumb things, even when he gets on the field. These stunts are killing his days with the Bucs.
Early in the third quarter last night, RoJo had a chance for another first down. Instead, he decides the game isn't important enough and ducks out of bounds rather than fight for a first down.
He got an earful from Tom Brady. He should have.
RoJo looked like he was having an OK game. A lot of Bucs fans want him to run more. Understandable. But yet again, taking the lazy route out of bounds instead of getting a first down trailing by six is simply inexcusable to Joe. That's either having no idea of the game situation or that's being lazy.
Joe is confident that stunt wdas also inexcusable to Bucco Bruce Arians and Brady. It wasn't the first time RoJo preferred going out of bounds this season.
Since Arians arrived in Tampa Bay, he and his staff have worked on RoJo's confidence, which was virtually destroyed as a rookie. But nearly three years later, Joe thinks the Bucs are running out of patience working with his head.
Why does Joe think that? Well, just look at RoJo's snap counts, his touches and how he still does dumb, lazy crap in close games. You have to believe the coaches have scolded him. Yet it happens again. Simply put, right now the Bucs cannot count on RoJo (maybe that will change in the next game or two with Playoff Lenny out?). As a result, RoJo doesn't get on the field much. (See Howard, O.J.)
It looks like RoJo will get more opportunities against weak opponents very soon, as in Sunday against the Stinking Panthers with Playoff Lenny blowing out a hamstring last night.
Better make the most of it, RoJo. What you do the next three weeks could decide whether you are still with the Bucs come.
Props to Joe Tryon-Shoyinka
One reason Joe Tryon-Shoyinka hasn't been getting as many snaps as many fans want is that the Bucs simply don't trust him in the run game. He'll get there but he's not there yet.
Or is he?
JTS made a helluva run stop on third down in the open field in the fourth quarter to force a slimy Saints punt. Gadget Wing-T slimy Saints quarterback Taysom Hill — hey, he can run and is a big dude — took off to the left sideline. And JTS raced after him, caught him from behind and brought him down. In the open.
Excellent play!
With open-field run stops like that, JTS will see more playing time. That was a helluva play by the rookie. Well done!
JTS finished last night with a sack, a quarterback hit and two tackles for loss. Nice work, Mr. Tryon.
Welcome Back, Antonio Brown!
Joe must get this off his chest. So last night live on the Buccaneers Radio Network pregame show, in the weekly interview Gene Deckerhoff conducts with Bucs AC/DC-loving general manager Jason Licht, Licht said both Antonio Brown and Mike Edwards will be be back inside the building for the first time since they were suspended some three weeks ago.
NBC sideline reporter Michelle Tafoya early in the game stated, "I can confirm" the Bucs will bring back Antonio Brown and Mike Edwards as she claimed she "just spoke with Bucs officials" — likely a Bucs' media relations staffer assigned to the sidelines during games.
What do you mean you can confirm? What was there to confirm? The GD general manager said one hour earlier, live on the team's pregame show, the two players are coming back. What, you think the GM would lie about something like that on his own team's in-house production? That would be unbelievably brazen and dumb.
It's just twisted vanity with some of these people. "I can confirm… " What do you mean you can confirm? There's nothing to confirm!
Hey Michelle, maybe if don't go on some dipsh!t, vapid hollering yenta show like "The View," you wouldn't be in your final days at NBC. Can you confirm that?
But back to Antonio Brown, Joe will have more later. Thank goodness common sense and reason was applied at One Buc Palace. With Mike Evans and Chris Godwin out for who knows how long, you damn right the Bucs need Brown. Joe doesn't want to read any whining about the Bucs and Brown from the virtue signalers and non-Bucs fans.
Is there nothing in the playbook for O.J. Howard?
Has he fallen that far?

— JoeBucsFan (@JoeBucsFan) December 20, 2021