Staying Dangerous. Staying Alive.
December 23rd, 2021
BY IRA KAUFMAN
Buc fans never saw it coming.
In one horrific 3-hour span, the Bucs went from Super Bowl favorites to a battered club with major questions surrounding the weapons at Tom Brady's disposal.
We know the Saints have Tampa Bay's number and that number now stands at 4 — as in four key players who went down with significant injuries during a Sunday evening to forget.
Chris Godwin (knee), Mike Evans (hamstring), Leonard Fournette (hamstring) and Lavonte David (foot) all suffered serious injuries and there are no assurances any of them will return for the postseason.
Godwin's year is done prematurely, a crippling blow for an elite receiver months before he is slated to hit the free-agent market.
It's still hard to believe a defending champion's fortunes can flip that suddenly.
In a memorable scene from "Goodfellas," Ray Liotta is walking down the street with Robert De Niro when he talks directly to the audience about an impending murder.
"That's how it happens, That's how fast it takes for a guy to get whacked."
And while the Bucs are far from dead, their wounds may prove fatal.
Just when Tampa Bay's secondary has returned almost intact, Brady's best weapons are on the shelf.
Godwin did all the dirty work between the hash marks, Evans is a huge red zone threat and Fournette was playing great football. David was coming off an exceptional game against New Orleans.
There's more.
Add in the uncertain status of Antoine Winfield Jr. and the torn rotator cuff that has robbed Jason Pierre-Paul of his pass-rushing prowess and you have a depleted roster reduced to picking up guys off the street.
Remember that boat scene in "The Sopranos," when a member of Tony's crew warns James Galdolfini about the way their lives in the mob are destined to conclude?
"At the end, you probably don't hear anything," said Tony's henchman. "Everything just goes black."
Surviving On The Edge
Heading to Charlotte to face the punchless Panthers, the Bucs must avoid the temptation of feeling sorry for themselves. They're not going to receive any sympathy from edge rushers Brian Burns and Haason Reddick, who have combined for 20 sacks.
Burns made the Pro Bowl and Reddick is an alternate with 11 takedowns for a defense that gets little fanfare because the Panthers are 2-9 after a 3-0 getaway. Only Buffalo has allowed less yards than Carolina, which allows an average of 39 fewer yards per game than Tampa Bay.
Health is always a major factor at this time of the season and the good news is Brady appears eager to soldier on. Antonio Brown is back and Rob Gronkowski is determined to atone for one of the worst games of his storied career. The offensive line, featuring three Pro Bowlers, remains intact and Shaq Barrett is peaking.
What else is there to generate enthusiasm?
That No. 1 playoff seed seems like a longshot, so Bruce Arians needs to think about shutting down his walking wounded in the next few weeks. Is there truly a dramatic difference between facing the 49ers or the Eagles that is worth endangering Evans heading into the playoffs?
Brady's presence and pedigree gives Buc Nation hope amid all this adversity. In 2018, when Brady's Patriots won it all, his leading targets were running back James White, Julian Edelman, Gronkowski, Josh Gordon and Chris Hogan. He knows how to maximize the talent around him and right now, that talent base has been severely compromised.
From here on out, these Bucs have to do all the little things better because they're not going to bludgeon people with an overwhelming offense.
Special teams, a concern all season, need to provide a winning edge. Devin White needs to lasso a few quarterbacks and coaches have to do a better job of tailoring game plans to specific opponents.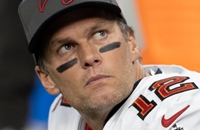 The Bucs may no longer be the Super Bowl favorites, but they remain dangerous as long as No. 12 is upright. His birth certificate reads 44 and his 40 time reads 5.5, but Brady's mind reads defenses better than his peers and Tampa Bay just might have the goods to suck it up for one more run.
That's how it happens.
---