Singing The Blues
December 13th, 2021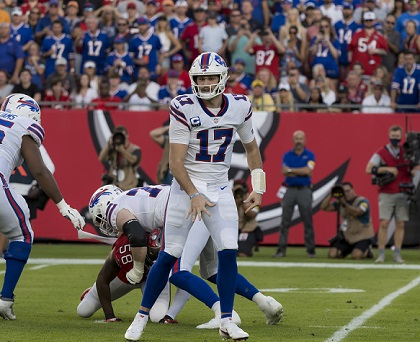 Joe is old enough to remember the last Buccaneers home playoff game (non-Super-Bowl event).
The scene was January 2008 and there had to be around 15,000 New York Giants fans in the house.
It was ugly. The tailgate scene was infected with vile blue shirts, and the ticket-scalping scene outside (remember that pre-smartphone fun?) was filled with dudes saying Ineeduhticket with their horrendous Jersey accents.
More important, the loud Giants crowd had an impact on the field of play, much like was seen and heard yesterday.
Thousands of Bills fans screamed their heads off and it was clear that Tom Brady had to think about communication in a way that's not typical for him in Tampa.
So what happened? Well, greed kicked in, starting with Team Glazer and the Bucs, which do little if anything to stop ticket brokers from gobbling up tickets. And Bucs fans cashed in on the secondary ticket market.
Joe has no problem with capitalism, but there are measures NFL teams can take to help limit opposing teams' fans from flooding the home turf.
Bucco Bruce Arians weighed in on the subject today.
"When we had the ball on defense, they were great, man. We could feed off that energy," Arians said of the Bucs faithful.
But the head coach acknowledged that the Bills fans were plentiful and loud.
"You can't control who owns tickets and what they do with them," Arians said.
Yes, Bills fans travel well and obviously their fan base targeted a December trip to gorgeous Tampa long ago. But still, Team Glazer should take note and put their staff together and try to find a more Bucs-friendly fix.
Too much blue in the crowd but at least they went home miserable. pic.twitter.com/s7HsdfyVrL

— JoeBucsFan (@JoeBucsFan) December 13, 2021