Saints On The Brink
December 23rd, 2021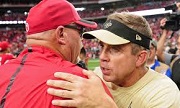 UPDATED 4:52 p.m.: Now with two QBs on the COVID shelf and Jameis Winston rehabbing a blown out knee, the slimy Saints are starting a rookie quarterback on Sunday against a team that's won six consecutive games.
Man, Joe is having a hard time beating back a smile at the Saints' misfortune.
Taysom Hill and Bucs killer Trevor Siemian are on the COVID list. Hill landed there today because he's unvaccinated and didn't use a fake V-card and was exposed to Siemian. So Sunday's starter against the Dolphins will be 2021 fourth-round pick Ian Book out of Notre Dame.
The Saints also have nine other players on the COVID list as of late Thursday afternoon.
With three games remaining, the Saints (7-7) are on the outer bubble of the playoff chase. The Vikings (7-7) hold the No. 7 seed and the Eagles (7-7) are ahead of New Orleans via the current tiebreaker formula.
A loss by New Orleans on Sunday and a Falcons (6-8) win against the Lions would complicate matters further for the Saints' chances of a playoff rematch with the Bucs. New Orleans already lost to Atlanta this season and will face them Week 18 at Atlanta.
So barring an upset with a nobody rookie at QB against a good Miami team on Sunday, the Saints are on the brink of watching the playoffs at home.