Safety Role Next For Richard Sherman
December 6th, 2021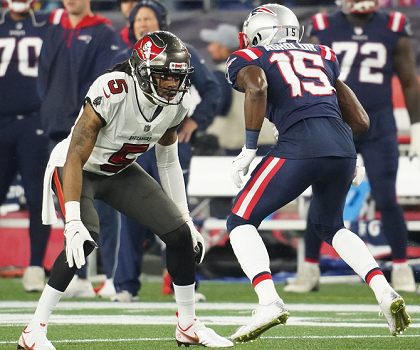 Last last season, injured Bucs cornerback Richard Sherman was taking reps at safety for the 49ers.
It's something that superstar corners seem to do in order to extend their careers. See Rondé Barber's 2012 season playing for The New Schiano Order.
Sherman told Bay area media (the other Bay area) last year that he consulted with Hall of Fame corner/safety Charles Woodson about his transition and that he's interested in making the move.
Fast-forward to the surging Bucs, and Sherman is healing from his calf injury but the Bucs' deck is full again at cornerback.
Carlton Davis is back healthy, as is Sean Murphy-Bunting, and Jamel Dean is grinding through a shoulder injury. Meanwhile, the bottle of cologne, Pierre Desir, is picking up his game and as a backup corner and Ross Cockrell has a lot of trust from the coaching staff after playing about 25 percent of the snaps last season and proving versatile (though not great) in 2021.
Sherman, when he was on the field at corner for the Bucs, wasn't very good.
Today, Bucco Bruce Arians said Sherman will start training at safety. It wasn't clear whether Sherman already has invested significant time studying the position in the Bucs' defense.
Joe heard the news and gulped a couple of times. It tells Joe that Jordan Whitehead's calf injury could be more serious than the team has shared.