Assessing The Ws
December 6th, 2021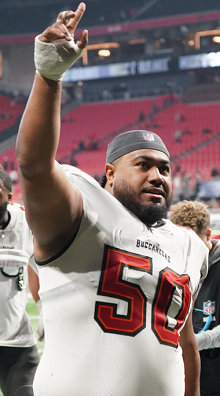 We're nearing the time of year when some fans and haters will look at the Buccaneers' record and ask, "Who have they really beaten?"
It's always a fun question, especially this season when the Super Bowl champs are competing in a division with three bad teams.
The optimist would quickly note the Bucs edged the Cowboys on opening day when Dallas was playing impressive football — before losing three of their last five games. The Bucs beat New England on Oct. 4, just before the Patriots (8-4) morphed into the beast of the AFC.
Miami was on its way to a 1-7 record when the Bucs blew them out, but now Miami is 6-7. The Colts (7-6) were sizzling hot when the Bucs beat them last week in Indianapolis, and they responded by blowing out Houston 31-0 on the road yesterday.
Yes, the Bucs lost road games to the Rams (8-4), Saints (5-7) and the Washington Heinicke's (6-6).
So how does that all stack up in the NFC?
Joe doesn't care too much, but some fans will have fun overanalyzing it all.
For perspective, the Bucs are 9-3 along with the Packers. Green Bay beat the 49ers by two points and followed that up with wins against good Steelers and Bengals teams. They also took care of the Heinickes and the Cardinals back-to-back before losing two of their last four.
Green Bay was pounded by Saints on opening day, and lost in November to the Chiefs without Aaron Rodgers and fell to the sad Vikings.
Joe thinks the Bucs' overall performance stacks up quite well to Green Bay's.
Regardless, it's all fodder for bad sports talk radio. The answers will come on the field.
The Bucs have the firepower to run the table. Use it!