Rondé Barber Named A Hall Of Fame Finalist
December 30th, 2021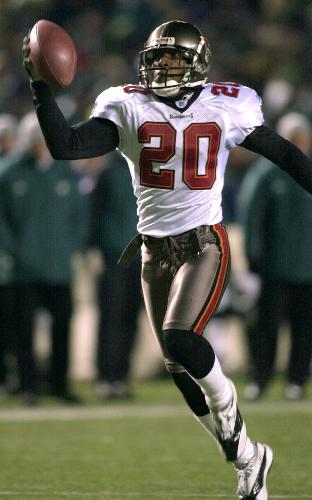 It's official. Rondé Barber will once again be debated for entry into the Pro Football Hall of Fame.
The iconic Bucs cornerback is back "in the room" for the second time. Barber was named among the 15 finalists for the 2022 class today. It's likely that five of those 15 will receive enough votes to get in.
Tampa Bay's lone Hall of Fame selector, JoeBucsFan.com columnist Ira Kaufman, rolled up his sleeves on this year's presentation months ago and is leaving no stone unturned.
Superstar Packers safety LeRoy Butler from the 1990s is Barber's main competition among defensive backs.
Old school Bucs fans know Barber is worthy of enshrinement. He defined the nickel cornerback position, and he's also got great numbers and longevity.
Barber recently talked on CBS Sports Radio about how his game improved drastically when Mike Tomlin arrived in Tampa as his position coach in 2001. Barber said Tomlin's focus on basic fundamentals fine tuned his game and led to him leading the NFL with 10 interceptions in the '01 season.
Yes, Barber also was a lockdown corner in his day before he made a big name for himself inside. He rushed the passer like no other cornerback, and he played the run like a beast. He even shined on special teams.
The 2022 finalist field is strong, but not as rough as it's been in years past. This could/should be Barber's year.