Rob Gronkowski Blowing Up Defenses
December 5th, 2021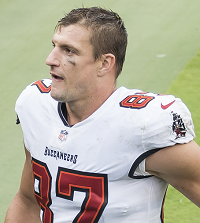 You know you have had a good game when you hear the following during the television broadcast.
Foot-rubbing, car-littering film guru Rob Gronkowski caught a short pass over the middle early in the fourth quarter for a first down in the Bucs' win over the Dixie Chicks. Kenny Albert, calling the game for FOX, said that was Gronk's first catch of the day that was not a touchdown.
When you hear that, you know you've had a good game. And Gronk did, despite a couple of drops.
Today, Gronk wasn't a focal point. It was clearly Chris Godwin (15 catches) and Mike Evans (99 yards). But when Tom Brady wanted to hurt the Dixie Chicks, he called Gronk's number.
Gronk's first touchdown was a 27-yarder after he outraced a pair of defenders for the corner of the end zone. His second was an 11-yard catch in the end zone. It was exactly how the Bucs drew up the play, Bucs Super Bowl-winning coach Bucco Bruce Arians said.
"You get Gronk one-on-one against a defensive back, that's not a fair fight," Arians told the Buccaneers Radio Network.
Gronk has been damn near dominant the past three games. Last week he had over 100 yards receiving. Damn what a difference he makes in the offense.