No Asterisk Mike
December 6th, 2021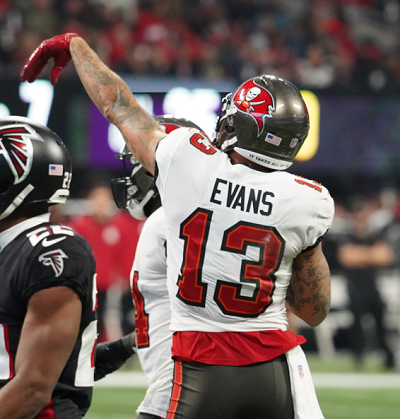 Bucs fans and NFL fans know Mike Evans alone owns the NFL record of seven consecutive seasons to start a career with 1,000 or more receiving yards in each campaign.
Joe loves the record and thinks it speaks volumes for his consistency and greatness, especially when you consider one of those years he was snagging balls from Josh McCown and Mike Glennon. And America's Quarterback, Jameis Winston — and Ryan Fitzpatrick — are not star performers or pillars of accuracy.
With the NFL expanding to 17 games this season for the first time, Joe is hungry for Evans to get 1,000 yards again without needing a 17th game. You know, extend the record after the first 16 games without requiring an asterisk to explain you needed the extra game.
Evans was the No. 2 dog yesterday in the crushing of the Falcons, almost quietly racking up 99 yards on seven catches while Chris Godwin busted a franchise-record 15 receptions.
After that showing, Evans now has 794 receiving yards this season through 12 games. So he's on pace to hit 1,000 yards after 15 games, not 16 or 17, and Joe is confident Tom Brady will make sure Evans hits the 1,000-yard mark before that 16th game is over. Joe would bet $100 it means something to the greatest Bucs receiver in history.
Evans also is tied for second in the NFL with 10 touchdown catches and has 57 receptions for the season.