Misguided Shots At Bruce Arians For Antonio Brown Return
December 19th, 2021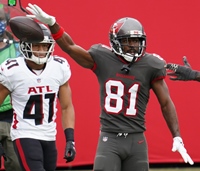 Enough!
Too many folks are trying to hold the Buccaneers' head coach to a 2020 one-liner that has no clearly defined meaning.
Stop it!
NFL Network reporter Ian Rapoport shared this morning that furniture-hurling, bicycle-throwing Antonio Brown and safety Mike Edwards, both suspended for producing phony vaccine cards this summer, will return to the team on Monday. It's got some throwing darts at Bucco Bruce Arians because the head coach told NBC Sports insider supreme Peter King 14 months ago that if Brown "screws up one time, he's gone."
Joe finds that ridiculous. Far too much time has expired, as did Brown's 2020 Buccaneers contract.
Joe fully believes that Arians' one-and-done rule for Brown voided after the Super Bowl, and certainly for the weeks that Brown was on the free agent market. When the Bucs re-signed Brown, he got a clean slate — as clean as it could be for a guy with many past legal, civil and NFL issues.
Brown handed in a phony vaccine card and got caught. He broke a team rule and no government authority is punishing him for the contents of that card. Egos were bruised and feelings were hurt, but it ends there.
Arians has an obligation to Bucs fans and his roster. He has pledged to do whatever he can to win. That means making sure Brown doesn't land on the Saints, which still easily could land the No. 7 seed even if they lose to the Bucs tonight. That also means Brown doesn't sign with the Rams or Packers.
Keep mind Brown knows the Patriots playbook, too.
You can argue all day long about how the Bucs should handle Brown internally and after this season. But Joe is convinced there is no debate when it comes to whose jersey Brown should wear over the next eight weeks.
Saying Arians is going back on his October 2020 word is a stretch. New season. New contract. New reality.