Lady Luck Lenny
December 12th, 2021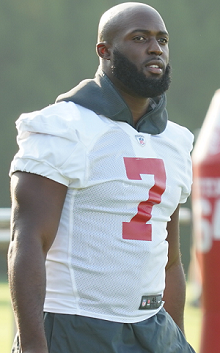 Every Bucs fan alive knows Leonard "Lombardi Lenny" Fournette does not need a new nickname.
He's got plenty. But a new one is emerging and it can't be argued.
The Bucs are now 14-0 when Lady Lucky Lenny has 12 or more carries. Fournette finished today's game against the Bills with 19 carries for 113 yards and a 48-yard touchdown.
It's a stunning 14-game streak for Fournette and the Bucs considering Fournette has only played in 32 games. (Remember he was benched last December against Minnesota.) Fournettes stats in those games are downright mindblowing.
Joe always writes/says that putting the ball in the hands of your best players is a recipe for wins. It always has been. Lady Luck Lenny is a special talent but the kind of running back who needs to rock enough to get in a rhythm, build confidence and size up the game in order to make his mark — and 12 carries certainly isn't too much to ask.
Bucs are about to go 14-0 when Leonard Fournette has 12 or more carries.
Lenny has 15 carries today for 104 yards.

— JoeBucsFan (@JoeBucsFan) December 12, 2021