"It's Almost As If They Ran Out Of Plays"
December 20th, 2021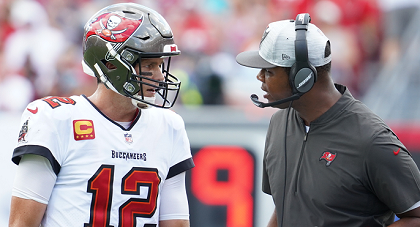 Should the Bucs offense have looked as bad as it did after Chris Godwin, Mike Evans and Leonard Fournette left the game?
Of course not.
Former Bucs, Chiefs, Cardinals and Jets tight end Anthony Becht knows that. He dove into the subject on WDAE radio this morning.
Becht strongly implied that the Bucs' offensive coaching staff had a very bad day.
"This lack of readiness to have a plan, and No. 2 and have some of your other players step in. And clearly from a formational standpoint, you had to go a couple of tight ends situational formations a couple of times — O.J. Howard, they had no routes for him. They had no routes for some other guys. They just didn't have a lot of groupings and plans," Becht said. "It's almost as if they ran out of plays because of the [player] groupings that were in. And they clearly weren't running the same kind of stuff that they were early in the game with the same receiving crew that was in there. So they were limited."
Becht went on to talk about the Bucs' lack of readiness and overall the offense not taking what the Saints defense was giving.
He believes the Bucs should have adjusted much faster to put together at least one scoring drive, and Becht seemed a little flummoxed that the Bucs didn't lean more on Ronald Jones.
What a mess it was.
Zero points against a Saints defense that was getting lit up routinely before it faced the hapless Jets last week.