"I Don't Know If Duron Harmon Is Up For That"
December 4th, 2021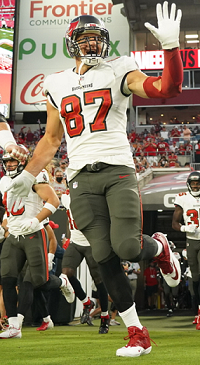 When you want to know what's happening with the Falcons, Sunday's Bucs opponent, you listen to The Bow Tie Chronicles podcast.
It's hosted by longtime Falcons beat writer and good guy D. Orlando Ledbetter, Atlanta's voting panelist at the Pro Football Hall of Fame.
Breaking down the Bucs-Falcons matchup, Ledbetter laid out the challenge for the Falcons and their relatively weak pass rush to stop the mighty Tampa Bay offense.
Joe thought it was telling when Ledbetter tried to figure out how the Falcons would stop Rob Gronkowski, "I don't know if Duron Harmon is up for that. Maybe Richie Grant can do it or they'll give him a shot at it."
Doesn't that just say it all. Harmon is a 30-year-old former third-round pick of a safety that the Falcons grabbed this offseason when he was discarded by the Lions. Safety Richie Grant is a rookie second-round pick out of Central Florida with less than 200 career snaps.
The Falcons allow the second-most points in the NFL. Atlanta would have its hands full even without Gronk on the field and he's been their hottest pass catcher over the past few games.
Joe would happily wager that the Bucs hit their scoring average (31.5 points per game) on Sunday. The Falcons have yet to break 30 this year.
Enjoy today's Ira Kaufman Podcast.