Bucs At Dixie Chicks, TV Map
December 4th, 2021
Will you see the Bucs play in downtown Atlanta tomorrow against the Dixie Chicks on your local FOX affiliate? Click below. Joe is here to help.

One would figure an NFC South division matchup between the Bucs and the Dixie Chicks would be of interest in SEC country, and so it is. Pretty much all of SEC Country will get to watch the Bucs play the Dixie Chicks on free TV via their local FOX affiliate (sans the great state of Texas).
If you don't live in the Southeast or New England, you will have to rely on NFL Sunday Ticket or head to their favorite watering hole.
Of course, locally, Bucs fans can head to Big Storm Brewery in Clearwater, Odessa, Cape Coral or downtown Orlando at the Amway Center to watch the game. Naturally, visiting your neighborhood Hooters is always a wise move. Bonus: Select Hooters in Florida carry Big Storm beer on tap!
(Streaming information and options will be included in the "Gameday Tampa Bay" post scheduled to publish on this here website at midnight.)
As always, TV coverage maps are courtesy of 506sports.com.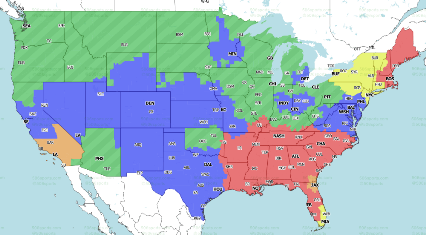 Red: Tampa Bay @ Atlanta
Green: Arizona @ Chicago
Yellow: NY Giants @ Miami
Blue: Washington @ Las Vegas (LATE)
Orange/Brown: Jacksonville @ LA Rams (LATE)