"Get Used To It"
December 11th, 2021
BY IRA KAUFMAN
Bruce Arians might be booking August flights to Canton for the foreseeable future.
You know that Arians has no intention of missing the enshrinement ceremony if Rondé Barber and/or Hines Ward are inducted into the Pro Football Hall of Fame in the next few years.
Both are among the 26 semifinalists for Canton's Class of 2022.
The 49 selectors are in the process of cutting the list to 15 finalists who will be discussed on a Jan. 18 Zoom call. The next Hall of Fame class will be announced Feb. 10, with a maximum of five modern-era nominees earning gold jackets.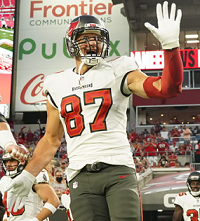 Arians has known Rondé and Tiki Barber since they were toddlers and he was Ward's position coach in Pittsburgh, so he has a strong rooting interest.
Looking at the current Buc roster, Canton should have some of these guys on speed dial. When the Bills hit the field at Raymond James Stadium late Sunday afternoon, they will be facing at least two Hall of Famers for sure — with another two in the process of building convincing cases.
Five years after No. 12 retires, his presenter should stand up, say "Tom Brady" and sit down. End of discussion, let's move on. Are we seriously going to debate Brady's case for Canton?
Brady is one of those rare candidates who needs no back-and-forth chatter about his Hall of Fame merits. He's on a level with Jerry Rice, Jim Brown, Anthony Munoz, Joe Greene, Lawrence Taylor, Ronnie Lott and Joe Montana … the all-time greats.
Rob Gronkowski is approaching that elite status.
Gronkowski made the All-Decade team of the 2010s and he hasn't slowed down much as a Buccaneer. Brady calls him the best tight end in league history. If he's not, Gronk's in the conversation because he is a complete football player. We know what a difficult matchup he is as a target, but old-school players appreciate Gronkowski's prowess as a blocker.
Like Brady, he's a first-ballot Hall of Famer. Their busts in Canton should rest across from each other, just like Derrick Brooks and Warren Sapp.
The Resumés
In his eighth pro season, Mike Evans is compiling a thick Hall of Fame resumé. He's only 28, so Evans has plenty of time to add to his already impressive numbers. Five times, he's been named one of the league's Top 100 players and barring injury, this will be his eighth consecutive 1,000-yard season.
Evans averages 76.8 receiving yards per game in his career, ranking eighth in NFL history. He has a decent chance to finish as only the seventh receiver with 15,000 yards. Of those six, five are already in the Hall and Larry Fitzgerald will enter Canton when he's eligible in 2026.
Then there's the case for Antonio Brown, who made first-team All-Pro as a Steeler four consecutive years, beginning in 2014. Brown was the NFL's premier target for an extended period and his career average of 84.5 yards is the best in league history for any receiver who has played as many games as Brown.
What about the other side of the ball?
Ndamukong Suh, drafted one spot ahead of Gerald McCoy in 2010, is still going strong. He turns 35 next month, but you'd never know it by his fierce play and startling durability.
This warrior has missed two games in 12 years.
"I'd say he's got a big case," Arians says. "If you talk about consistency and great level of play for a long time, I don't know how many people have done it better than Suh. He's still a handful."
Young players like Chris Godwin and Devin White appear to be on a path to stardom, but they have miles to go before even thinking about Canton. We'll get back to them in five years.
The Tampa Bay Buccaneers and the Hall of Fame. Get used to it.