Donovan Smith Joins The Elite
December 8th, 2021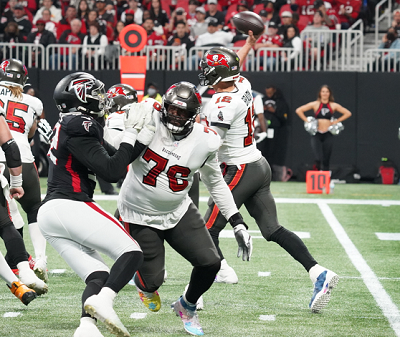 BY IRA KAUFMAN
@ikaufman76
Ira Kaufman's work is presented by Bill Currie Ford, home of the nationwide lifetime warranty on new and used vehicles.
In his seventh NFL season, Donovan Smith is at the top of his game.
That game has been tantalizingly effective for long stretches, but then there would be a lapse that generated concern from Buc fans. Can we trust this guy to protect our quarterback's blind side?
That question was magnified when Tampa Bay signed Tom Brady, who rarely strays from the safety of the pocket.
Smith's durability has never been questioned. He has missed only two games since being installed at left tackle in 2015, despite a string of injuries along the way.
The issue surrounding Smith has always concerned his inconsistency. There were times he appeared sloppy and unfocused. For example, in a Week 9 debacle against the Saints last year, Trey Hendrickson had his way with Smith, registering two sacks and tormenting Brady off the right edge.
But when the postseason dawned, Smith was a critical component of a domineering offensive line. He didn't allow a sack or commit a penalty in the championship drive and the Bucs rewarded him with a contract extension in March.
"I'm still young, I'm still learning," Smith said when the new deal was announced . "I feel like that's the biggest thing, because as you keep learning, the better you can get through the years. Once you feel like you've stopped learning or know it all, that's when you become complacent and you're just chilling."
At the age of 28, Smith has ascended from the middle of the NFL's left tackle pack to Top 5 status. He has worked diligently to improve his technique, allowing one sack in 2021 while being charged with only three holding calls. In eight of Tampa Bay's 12 games, Smith has played 100 percent of the snaps.
What changed?
In pursuit of that answer, I turned to former Buc tight end Anthony Becht, a keen observer of NFL line play following an 11-year pro career. Becht's response was both surprising and incisive.
"Right now, Donovan is up there with the best left tackles in the game," he said. "I think the presence of Tristan Wirfs has been the difference maker for him. Donovan has had his lapses in the past, but seeing how polished Tristan has been right out of college pushed the envelope for everybody. This young kid has lifted everyone's standard."
Buc fans could care less about the process — all they know is Smith is playing at a very high level.
No team has thrown more passes than Tampa Bay and no team has yielded fewer sacks. That is one heck of an NFL exacta, a credit to the guys up front and the coaching staff. The Bucs have run the ball effectively for most of the season, yet only the Jets have fewer rushing attempts.
On average, Smith is in pass protection mode on two of every three snaps.
That's a lot of wear and tear on a left tackle, taking on some of the league's premier pass rushers ,but Smith has held up very well.
"With Wirfs being such a technician and getting a lot of love, it either motivates you as a teammate or causes you to go, why bother?" Becht says. "With a guy like Donovan Smith, everything's there. Why wouldn't you want to be great? What the Bucs are doing in terms of throwing the ball is phenomenal, given that Brady is standing in a 4×4 box. It's high-level stuff on Brady's part, but save some credit for Smith and that offensive line."
The Bucs rank No. 1 in scoring offense and No. 2 in total offense through 12 games. Brady's secure pocket has been the key and Smith is leading the way with a new-found focus.
"I'm still learning a lot." Smith said back in March. "I just love it. I go out there and have fun with my guys, enjoy winning."
It shows.