Did Tom Brady Blast The Defense?
December 16th, 2021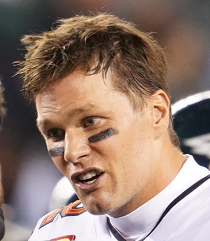 Interesting take from Richard Sherman after Tampa Bay sports media icon and Bucs Kickoff podcast host Rock Riley asked him about letting Buffalo come back in the second half Sunday.
Rock was focused a bit on the great pride the defense takes in stopping the run. Sherman took it a step further and implied that Tom Brady himself wagged a finger at the defense for allowing Buffalo to drop 24 points in the second half.
"Quarterback runs are always tough to deal with, but there is a sense of urgency to the defense and a sense of understanding that that cannot happen ever again," Sherman said. "You know, regardless of the scenario, what the situation is, especially going into the playoffs, it's time to button it up. And I think guys have gotten that message. TB really gave it to us in the meeting, obviously after the game. And we're going to get that fixed."
Joe loves that one-liner, "TB really gave it to us in the meeting."
Sherman earlier noted that Brady has crazy attention to detail and routinely sits in on meetings for every offensive position group.
Or was "TB" defensive coordinator Todd Bowles?