Buccaneers 33, Bills 27 OT
December 12th, 2021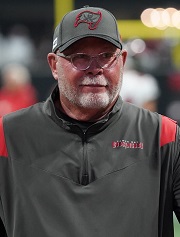 Precision offense is the Bucs' first-half specialty, especially at home, where they frequently have 20-point halftime leads like they got today against Buffalo.
Yeah, the Bucs inexcusably let the Bills claw all the way back in the second half, but our beloved Bucs are now 10-3, the best start in team history.
The big guns in the passing game were back at it again. Chris Godwin had 10 catches for 105 yards, while Mike Evans racked up 6 receptions for 91 yards and a touchdown, along with a key flag. Rob Gronkowski had his moments with 5 catches for 62 yards.
Tom Brady had a few rough misfires (no interceptions) but did enough to outduel one of the great versatile young quarterbacks in the game.
With a 24-3 lead, Joe certainly didn't think the game would come down to the Bucs defense making a big stop. But that's where the second-half collapse led Tampa Bay. Bills QB Josh Allen got the ball back with a few minutes left and the Bucs leading 27-24. Thankfully, Jason Pierre-Paul,  Ross Cockrell and Carlton Davis made plays on that drive to force a game-tying field goal and overtime.
For Joe, this game was great evidence of how badly the Bucs need a healthy Devin White. No way Josh Allen runs like he did today — 12 carries for 109 yards — if White is his speedy self. Lavonte David? Where have you gone?
It's freakin' amazing that the Bucs consistently have issues that keep them from playing complete ballgames and they're still among the NFC elite at 10-3.
Joe knows some Bucs fans will be bitter, especially at the collapse of the offense and the Bucs' inability to stop the run in the second half — and there are a lot of culprits on that — but Joe is giving a ton of credit to Allen putting his team on his back.
Problem was, his team isn't better — and it doesn't have Tom Brady.
Or Breshad Perriman!!