"An Absolute No-Brainer"
December 28th, 2021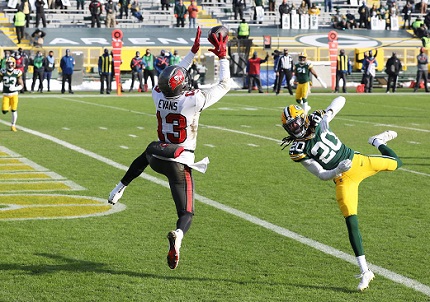 A former Buccaneers pass catcher is pleading to everyone in charge at One Buc Palace to make sure Mike Evans isn't seen again until the postseason.
Man, the way retired tight end Anthony Becht was talking yesterday morning, Joe legitimately wondered if Becht was about to pick up the phone and call Team Glazer himself.
Becht lives locally but also is well connected with the Jets and is part of their preseason broadcasts. He was adamant on WDAE radio that the Bucs can beat the Jets on Sunday without Evans. And he's sure the Bucs can take down Carolina without him to close the regular season.
Evans' hamstring should get all the rest and healing time it needs, Becht ranted.
"When it feels good, you take an extra week," Becht explained of hamstring injuries.

"To me, it's a no-brainer. It's an absolute no-brainer. If he's on the field for any of those [two final games against the Jets and Panthers], I think it's a catastrophic mistake. I don't know the extent of the injury; I just know hamstrings. Don't put him out there and I think they'll be good to go. …

"They're going to need Mike Evans at full capacity. He can't come out on the field and [coaches] say, 'Ok, we gotta see how he warms us.' If I hear that, that's going to be a problem."
Becht went on to say hamstring rehab and recovery is tricky and setbacks are common after feeling great.
Joe agrees with Becht in principle. But if Evans is healthy, then he's healthy. If he can play safely in the season finale and sharpen his timing with Tom Brady, then put him out there.
Joe would not play Evans on the turf Sunday at the Meadowlands on Sunday, where it's forecast to be cold and wet. Yes, Evans is on the COVID list, but he could test out of the designation later this week.
Enjoy Today's Ira Kaufman Podcast