13 Games, 92 Catches, 1,044 Yards
December 12th, 2021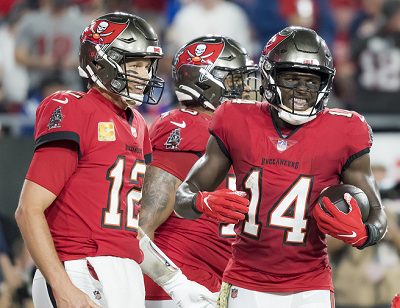 Joe and fellow Bucs fans are witnessing something very special, and it's not just the Bucs' 10-3 record (a new franchise best) and their stunning 18 victories in their last 21 games.
Joe's talking about Chris Godwin hauling in another 10 balls today for 105 yards. Now he's got 92 catches for 1,044 yards in just 13 games this season.
Barring injury, Godwin will shatter Keyshawn Johnson's franchise record of 106 catches in a regular season back in 2001.
Bucco Bruce Arians was adamant over the past week that Godwin is specifically rewarded with a ton of balls not only because he gets open, but because he blocks like a madman. You block, says Arians, then you will get fed the football on his team.
It's the same philosophy Arians took with Larry Fitzgerald when Arians arrived in Atlanta. And it's worked perfectly in Tampa.
Today, Tom Brady even had a couple of bad throws in Godwin's direction with still-25-year-old Godwin wide open.
Yes, the Bucs will pay Godwin an ungodly sum to retain his services in 2022. Brady will demand it. Common sense will demand it. Hopefully a second Super Bowl ring and another Godwin Pro Bowl honor demands it, too.