Washington 29, Bucs 19
November 14th, 2021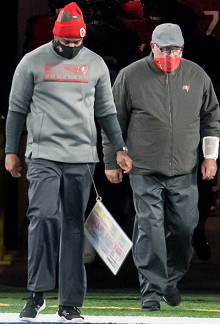 Our beloved Bucs were just manhandled by a bad football team.
Welcome to one of the biggest upsets of the NFL season.
Joe can't even call it Capitol Collapse (Part II) since the Bucs never led in the game.
As hard as it is for Joe to type, the Bucs just lost to Trevor Siemian and Taylor Heinicke in consecutive games. A 6-3 record never felt so dark.
The disappearance of no-risk-it-no-biscuit offense, an ineffective short passing game, no punishing ground attack, a too-inconsistent pass rush, and a too-average-looking Tom Brady combined with overmatched cornerbacks all added up to a stinker that likely will haunt the Bucs in January.
You just can't let Taylor Heinicke go 26-for-32 for 256 yards and a touchdown. It just can't happen.
Joe has to tip a hat to Washington for sticking with their ground attack even though it wasn't working will. Minus a few Heinicke scrambles, Washington handed off 31 times for just 80 yards, but it was just enough.
Joe's most disappointed by the Bucs — on a day when their passing attack was lacking — couldn't move the chains running the ball against a defense down its two best edge rushers. The balance should have been there and it wasn't. Why? Washington entered the game with the 29th-ranked defense in the NFL.
Lotta heart out there from Chris Godwin playing hurt and Jordan Whitehead firing away at safety.
Joe is ill.
Right now it feels like home-field advantage was just flushed down the toilet.