Updates On Bucs Injuries Including Jamel Dean, Devin White, Carlton Davis And Mike Edwards
November 29th, 2021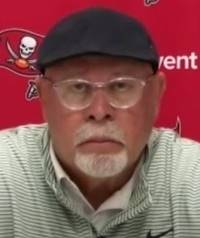 Bucs coach Bucco Bruce Arians shared information on injuries and for the most part they don't sound major.
Aside from guard Aaron Stinnie, who Arians said is doubtful to play against Atlanta, Arians seemed upbeat about the players who couldn't finish yesterday's win over the Colts.
Jamel Dean's tests do not reveal any structural damage to his shoulder, Arians said, and playing will just be a pain tolerance issue. Arians added Carlton Davis may be able to get back on the field.
"He had a real good week of practice last week," Arians said of Davis. "Right now, I am hoping he will be ready to roll."
Like Dean, Arians said linebacker Devin White will be a "wait and see" issue.
"We will limit him" in practice, Arians said of White's bad quad and hip. "He gutted it out" in the win over the Colts.
Mike Edwards, Arians noted, has a bruised knee, suffered when he made his game-saving tackle on the Isiah Rodgers kick return late in the game.