Two Sacks And A Triple For Shaq Barrett
November 28th, 2021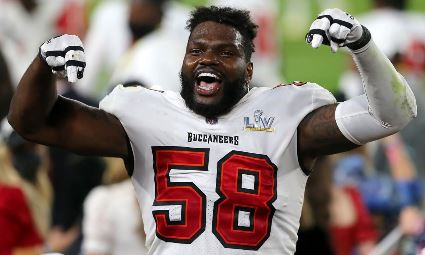 At the end of the day, sacks matter a lot more than pressures, hurries, farts near the quarterback or any other stat assigned to pass rushers.
It's just that simple — no matter how hard the stat geeks try to say otherwise.
Today Bucs sacks king Shaq Barrett emerged from his three-game sack slump to crank out two sacks, including the very special "triple." Shaq's strip-sack and fumble recovery in the third quarter was the turning point in the game and sparked the Bucs.
Shaq now has 7 1/2 sacks this season, and officials screwed him out of a couple more earlier this season. He's well on his way to double digits with six games remaining.
All of Shaq's pass rushing success also has to be viewed through the lens of him being a key part of the NFL's best run defense since 2019.
Keep hunting, Shaq!
With Jason Pierre-Paul clearly an injured shell of his usual self, the Bucs need Shaq more than ever to stay hot and stay consistent.