Tom Brady Got 1 Hour Of Sleep, Punched His Locker
November 1st, 2021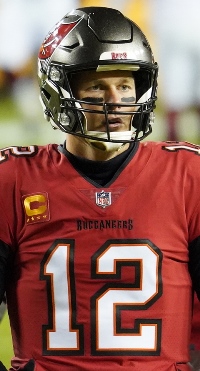 Joe is a lot like Tom Brady.
Well, not quite. But Joe did agonize all night about yesterday's groin-kick loss in New Orleans.
So did Brady, so he said tonight on SiriusXM Mad Dog Radio.
"The losses always feel the exact same. They suck," Brady said. "I mean, God. I got an hour of sleep.

"And the way we lost was tough. We had a great opportunity there in the fourth quarter."
Brady said dealing with losing is an important skill, even though he said he fired punches at his locker after the game.
"Part of playing is losing," Brady lectured like a Sage. "Losses are tough. They're difficult to overcome, you know, if you let one become two."
Brady shared his great pride in the Bucs being down three scores to the Saints (23-7 early in the third quarter) and coming back to take a late lead in a very hostile environment. He added that he loves the growth the Bucs have shown over the past 12 months.
Joe's not surprised Brady couldn't get to bed and got angry after the game. After all, The Goat did declare himself Sunday's goat.