Celebrating Chris Godwin
November 1st, 2021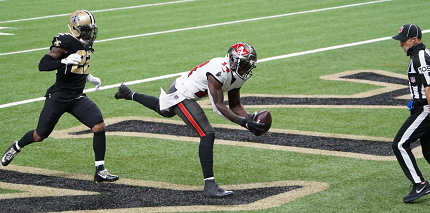 Only one dude in the NFL has made more first-down catches this season than Chris Godwin, and only four have more receiving yards.
It's no wonder that among the very few words Tom Brady shared last night after losing to the Saints was The Goat saying, "He's phenomenal. Chris is an incredible player. Gotta keep getting him the ball."
Godwin has 50 catches for 660 yards and 4 touchdowns through eight games this season. In the typical 16-game season, that's a Pro Bowl pace, nearly identical to the numbers of Godwin's lone Pro Bowl year in 2019 (86 catches, 1,333 yards and 9 touchdowns).
Of course, Godwin leads the Bucs in targets, receptions and yards. And the Bucs aren't even forcing the ball to him.
Joe was enjoying a plate of Hooters wings this afternoon and trying to meditate with positive thoughts. Godwin came to mind quickly.