The Buccaneers' Top-7 Receiver
November 23rd, 2021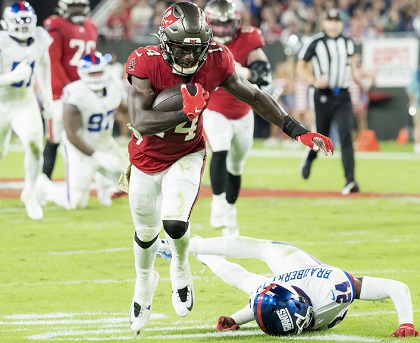 The numbers do not lie.
Chris Godwin has played in 10 games this season (some receivers have played 11) and he's top-10 in both receiving yards and catches. In fact, Godwin is seventh among wide receivers with 782 yards, and his 63 receptions are tied for sixth in the NFL among receivers.
Last night against the Giants, Joe loved seeing Godwin catch all six of his targets for 65 yards and a touchdown. And how sweet was it to see him serve Giants Pro Bowl cornerback James Bradberry a turf sandwich last night at The Licht House.
Godwin has hauled in a whopping 76 percent of the balls thrown his way this season. Mike Evans is at 61 percent.
Joe appreciates Godwin more and more as has career evolves. There's simply no way the Bucs would let him walk in free agency. After two years worth of all-in moves, having a healthy Godwin leave town for, say, the Eagles, just isn't going to happen.