Steve McLendon: "Smart" Football Is Bucs' Challenge
November 27th, 2021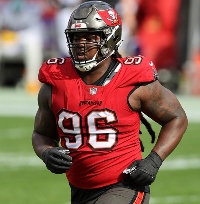 The oldest defensive player in the NFL is loaded with sage wisdom, and he shared some of it on CBS Sports Radio this week.
Tampa Bay defensive tackle Steve McLendon is that guy. He's always got plenty to say, even if it's about his Georgia gym business.
McLendon made it clear on radio that the Bucs have been nailing two of the three keys to victory: playing fast and playing hard. But playing "smart" is what's been escaping them. And he said that wasn't fully fixed against the Giants.
On beating the Giants, McLendon said practice didn't change following the Bucs' two-game losing streak to New Orleans and Washington with a bye sandwiched in between. Coaches emphasized, per McLendon, that "we're not going to change the wheel because it works." But a put-our-foot-down mentality by players was a difference-maker, he said, "We're home and enough is enough."
The smarts of the Bucs will get a huge test Sunday at a sold out Lucas Oil Stadium, where the roof is almost sure to be closed to jack up the noise on the Bucs offense.
Episode 2 this week of The Ira Kaufman Podcast.