"So Ready. So Smart. So Knowledgeable."
November 9th, 2021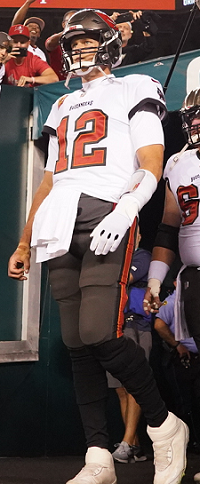 A guy with intimate knowledge of life with Tom Brady at One Buc Palace is urging America to wake up.
Now retired from pounding between the tackles, former Bucs, Bills, Eagles and Chiefs running back LeSean "Shady" McCoy has been diving into the media world and was a guest co-host on Good Morning Football this week on NFL Network.
Shady seemed stunned that anyone would not consider the Bucs the Super Bowl favorite after nine weeks of this season.
"Am I missing something?" Shady asked in disbelief.
McCoy was adamant that the Bucs defense is strong and only will get stronger as it heals. And he insists that one man, Tom Brady, makes the Bucs the clear favorite even if they are looking up at the NFC West leaders.
"Now Patrick Mahomes is a great quarterback, but I've never been with a quarterback who is so prepared, that is so ready, so smart, so knowledgeable," McCoy said. "He's 40-something years old. … He's still playing like he's 20-something years old."
Shady went on to say how well "Everyday Lenny" is playing and to praise the Bucs' coaching.
"Bling, bling again" in February, Shady declared.
Perhaps the most fun part of Shady's appearance was him not fully getting the flow of the show. It's not radio or a hollering show. He cut off regular co-host Kyle Brandt when Brandt dared to transition the discussion to the dangerous Saints.