Pro Bowl Voting Nears
November 9th, 2021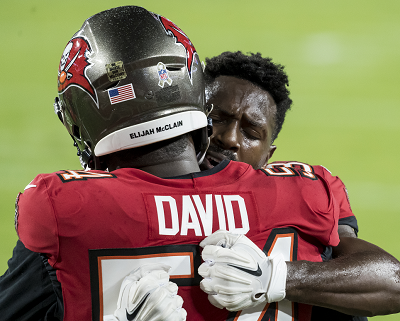 We're about a week from the annual opening of Pro Bowl voting, which instead should be a one-week exercise after Week 17 (not Week 18) of the regular season.
But the hype-hungry NFL always wants fans to start voting for the best players of a season with more than a third of the games to be played. It's moronic, especially when the technology is in place for a fast and furious vote — and one that's far more accurate and fair.
Regardless, Joe will play along.
For so many years, Joe has heard Bucs fans, coaches and players moan about how the Pro Bowl voting — that gives one-third weight each to fans, coaches and players — is rigged for the popular teams.
Even once upon a time on the goofy Buccaneers.com show co-hosted by Ali Marpet and Donovan Smith, Joe heard them speak publicly about the honors only really going to players on high-profile good teams with a lot of exposure.
Well, this is the year to test the theory. And yeah, it's just a theory.
The Bucs are defending Super Bowl champions and they've been media darlings since Tom Brady arrived.
As a result, even casual fans know Marpet and the flowing angry-red locks of center Ryan Jensen. Media talking heads and analysts have bellowed in front of millions that Lavonte David is an underappreciated superstar.
"Playoff Lenny" is a nickname known across America, and Joe would venture to say most serious NFL fans can name four Bucs wide receivers but can't do that for any other team. Joe could go on.
Bucs fans are more energized than ever, the team is more high-profile than ever, and Bucco Bruce Arians is well-liked and respected. The latter certainly helps when it comes to garnering votes from coaches around the league.
Last year, the Bucs had just one Pro Bowler: Jason Pierre-Paul.
What will all the greatness and exposure bring this year? Two or three Pro Bowlers? Four or Five?
Joe will take an early guess and predict three Bucs will get the annual blessing, which is going to leave a lot of fans and a few players angry.