Simple Path To Beating Saints?
November 5th, 2021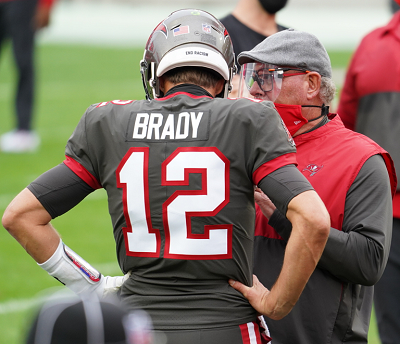 Joe consumed a lot of Saints media this week, in part to see what the evil empire is saying, and also because Joe has gotten so much hate mail from Saints fans suggesting Joe "celebrated" Jameis Winston blowing his knee out.
Of course, the latter is preposterous. But welcome to the Internet, where I-didn't-really-read-it-but-I-hate-you is a thing.
During all that Saints consumption, Joe saw a stat that since the start of the 2019 season, the Saints are 17-1 when they win the turnover margin within a game. That 17-1 mark reminds Joe of the Rams' ridiculous record just broken by head coach Sean McVay. He's now on a 43-0 run when leading at halftime.
It's the sign of a disciplined football team.
The Bucs have lost the turnover battle in all five regular season games against the Saints since Bucco Bruce Arians took over in 2019. In total the Saints are +10 against the Bucs in those games.
Could beating the Saints be as simple as not losing the turnover battle and the Bucs just letting their more talented roster outplay New Orleans?
Coaches and players can't think that way all through a game, but certainly the Bucs' playcalling can be designed to greatly limit the chance of turnovers.
So much will be on the line when the Saints return to Tampa for Sunday Night Football on Dec. 19.