Tom Brady "Wore Them Out" In Desire For Antonio Brown
November 5th, 2021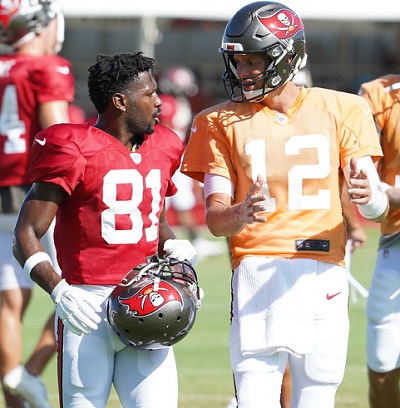 The guy Bucco Bruce Arians handpicked to write his recent book, noted author Lars Anderson, opened up this week on The Colin Cowherd Podcast.
A Season In The Sun was released last month (some dude named Ira Kaufman worked with Arians over the summer and wrote the foreword), and Anderson was telling great stories to help promote sales.
One nugget was on the courtship of Antonio Brown. It reminded Joe of Leonard Hofstadter looking for a date with Penny.
"Tom was constantly going into the offices of B.A. and Jason Licht, the general manager, saying, 'We gotta sign Antonio. We gotta sign Antonio. Gotta sign Antonio,"' Andersen said. "And he kind of just wore them out. So finally they call Antonio in after some of his legal stuff had been resolved. They get him into the building and Antonio said all the right things. So Bruce and Jason decided to take a chance.

"Again, this is almost like more blind faith in Tom.  I don't want to overstate that Tom played this role of assistant general manager, but he certainly impacted the decisions that Jason Licht ultimately made. And then when Antonio flies into Tampa, he doesn't know anybody in Tampa. So Tom actually picks him up at the airport. Who picks up people at the airport, these days?"
The term "influencer" comes to Joe's mind. Brady is the Bucs' ultimate influencer.
Will it be enough to send Odell Beckham to Tampa?