QB Stats Shift In Tom Brady's Favor Over Bye
November 8th, 2021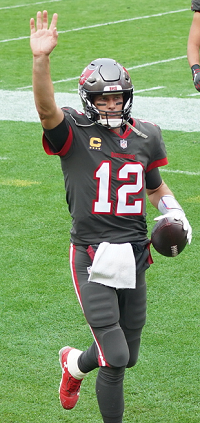 What a life Tom Brady leads. The guy gets a week off and looks even better among his elite quarterback peers.
Matthew Stafford came back to earth with the Rams (7-2) yesterday and threw just one touchdown against two interceptions versus the Titans.
Through nine games, Stafford has 23 touchdowns and 6 interceptions. In eight games, Brady has 25 TDs and just 5 picks, despite leading the NFL with 343 pass attempts.
There was talk of Stafford as a top MVP candidate, but Joe confidently would give Brady the edge after yesterday. Brady has 39 pass plays of 20 or more yards this season. That ranks second only to Derek Carr in the NFL.
Brady also has one more first-down throw that Stafford and is just 121 passing yards behind him despite playing one less game.
Joe's favorite Brady stat? He's eaten just 12 sacks. That represents the best sacks-to-pass-attempts ratio in the NFL. And for the last two sacks (during the worthless, senseless final series against New Orleans) Brady shouldn't have even been on the field.
Yes, Brady is Joe's MVP through Week 9.