Rob Gronkowski Has "The Same Back Issue He's Had In The Past"
November 10th, 2021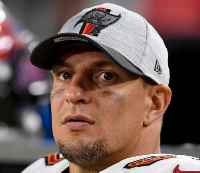 Rough news on Rob Gronkowski tonight.
Gronk busted his ribs in September and then was rushed back to face the Saints on Halloween. He only lasted six snaps before leaving with a bad back after attempting to block.
Bucco Bruce Arians opened up a bit on Gronk's status tonight on SiriusXM NFL Radio. It didn't sound pretty.
"He's got the same back issues he's had in the past," Arians said. "The [broken] ribs, you know, have created a back issue."
The return timetable?
"We think in about two or three weeks he'll be back normal," Arians said with uncertainty in his voice. "So [veteran tight end] Darren Fells coming in this week, a veteran player who's played good for us in the past. Love where we're at that way, and Gronk is going to get better. We'll just make sure that he's good when he comes back. …

"I want him ready to go the whole distance when we're ready to go."
Joe agrees with the new sentiment from Arians. Wait on Gronk until he's 100 percent, or as close as he's going for the postseason run playoffs. The Bucs can without him for a while.
If Gronk is a December return, so be it.