Gameday Tampa Bay
November 22nd, 2021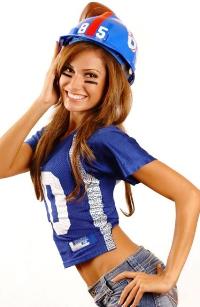 Game 10
Giants (4-5) at Bucs (6-3)
Kickoff: 8:20 p.m.
TV: BSPN.
Streaming: Fans may stream the broadcast from Buccaneers.com or on a mobile device using one of the following: Buccaneers official app or Yahoo! Sports app or BSPN app. Geographic restrictions apply.
Radio: Buccaneers Radio Network WXTB-FM 97.9 in the Tampa-St. Petersburg region (Transmisiones de radio en español en WTMP-FM 96.1 y WMGG-AM 1470 en Tampa). Additional stations throughout Florida on the Buccaneers Radio Network can be found here. The game will also be broadcast on SiriusXM Channel 137 (Bucs broadcast).
Weather: Pleasant. Per AccuWeather.com, tailgaters will enjoy temps in the lower 70s. Kickoff is expected to be 66 and to remain steady the rest of the game under partly cloudy skies. Zero precipitation is forecast. It may be breezy with gusts anywhere from 10 to 14 mph.
Odds: Per BetMGM, as of midnight Sunday, Bucs -10.5; over/under 50.
Zebras: This could be a flag-happy game, oh joy! The crew for tonight's game is Craig Wrolstad's gang. Though his crew has only worked eight games, no crew working eight games has thrown more flags. Per Rotwire.com, Wrolstad's crew loves to throw flags for holding. They have the eighth-most holding calls of all referee crews with 37. To be fair, Wrolstad's gang lets defenders rush the quarterback. They have thrown but four flags for roughing the quarterback. Only three referee crews have fewer.
Outlook:  Joe really thinks this game is going to be close. Giants quarterback Daniel Jones has faced Todd Bowles' defense twice before and has had success. Two years ago he fried the defense badly as the Bucs choked away a massive halftime lead. The Bucs couldn't stop this guy. Last year on Monday Night Football, Jones wasn't awful. He had two critical interceptions; take those away and he likely beats the Bucs again. Now, Jones has talented weapons but is down his top target, Sterling Shepard. The Bucs still don't have two of their starting corners. Sean Murphy-Bunting may be available but Bucs Super Bowl-winning coach Bucco Bruce Arians said he won't play full-time if he is activated. Let's just say Joe is not confident in Dee Delaney and the bottle of cologne, Pierre Desir. Joe does believe the Bucs win, a one-score game. The Bucs aren't playing good football of late and until they do, Joe thinks every week is going to be a struggle until they find a way out of this rut.
Trinkets: … QB DANIEL JONES completed 15 of 20 attempts (season-high 75 percent) and had a touchdown without an interception in Week 9. Passed for 336 yards and 2 touchdowns had 2 rushing touchdowns in the last road meeting with the Bucs, which was his first career start and win. … RB Saquon Barkley has 65+ scrimmage yards in 2 of his past 3 on road. Has 1,952 scrimmage yards (102.7 per game) in 19 career road games. Has 189 scrimmage yards (94.5 per game) and 3 touchdowns (2 rushing, 1 receiving) in 2 career games against the Bucs. … RB Devontae Booker had 122 scrimmage yards (career-high 99 rushing, 23 receiving) in Week 9, his fifth-career game with 100+ scrimmage yards. Looks for his third in a row with 120+ scrimmage yards. … TE Evan Engram had 15th-career touchdown catch in Week 9. Aims for his third in a row with a touchdown catch. Has 6 catches for 113 yards and a receiving touchdown in the last road meeting against the Bucs two years ago. Aims for his third in a row at Tampa Bay with 6+ receptions and fifth in row overall vs. the Bucs with 60+ receiving yards. … WR Sterling Shepard had 7 catches for 100 yards and a touchdown catch in the last road meeting. Aims for his third in a row vs. Tampa Bay with 7+ catches and 70+ receiving yards. … S Xavier McKinney had 2 interceptions, including his first-career interception-touchdown, in Week 9. Is 1 of 2 (along with J.C. Jackson) with 2 games with 2 interceptions in 2021. … DB Logan Ryan looks for his 6th in a row on the road with 7+ tackles. … DL Leonard Williams aims for his third game in a row against the Bucs with a sack. … QB Tom Brady has 1,277 passing yards (319.3 per game) and 18 touchdowns vs. 2 interceptions in 4 home starts this season. Aims for his 6th in a row at home with 4+ touchdown passes. Needs 3 touchdown passes to tie Hall of Famers Brett Favre and Peyton Manning for the second-most seasons with 30+ touchdown passes (9) in NFL history. … RB Leonard Fournette had 92 scrimmage yards (47 rushing, 45 receiving) and a season-high 8 receptions last week. Looks for his third in a row at home with 90+ scrimmage yards and a rushing touchdown. … WR Mike Evans had a 40-yard receiving touchdown last week, his 70th career receiving touchdown. If Evans has a touchdown tonight of any sort, he will become the Bucs' all-time leader in touchdowns in franchise history. Evans needs 128 receiving yards to become the 6th WR with 9,000+ receiving yards and 70+ receiving touchdowns in his first 8 seasons all-time. Evans has 32 receptions for 582 yards (116.4 per game) and 6 receiving touchdowns in 5 career games vs. the Giants. Evans had 190 receiving yards and 3 receiving touchdowns in his last home game against the Giants. Aims for his fifth in a row vs. the Giants with a receiving touchdown. … WR Chris Godwin had 7 catches and 57 receiving yards last week. He has a receiving touchdown in 3 of 4 home games this season. Godwin looks for his third in a row on Monday Night Football with a touchdown catch. … LB Lavonte David had 14 tackles and a forced fumble last week. Davis is 1 of 4 players (Chandler Jones, Robert Quinn and J.J. Watt) with 25-or more forced fumbles since 2012. … LB Devin White became the first player since Patrick Willis (December 2007) with 18-or more tackles (career-high 18) and 2-or more sacks (2) in a single game. White looks for his fourth game in a row with 10+ tackles. … OLB Jason Pierre-Paul had 58.5 sacks, 90 tackles for loss and 47 passes defensed in 111 games with the Giants (2010-17).
Fun fact: The only time a Bruce Arians-led team has ever lost to the Giants was two years ago when the Bucs' defense collapsed at home in the second half. The Bucs both choked away a massive halftime lead and a chance to win the game in the final seconds with a missed field goal.
.@rondebarber breaks down our Week 10 performance 🎦 pic.twitter.com/ufyC298BLi

— Tampa Bay Buccaneers (@Buccaneers) November 17, 2021
I'm proud to honor my grandfather during this week's #SaluteToService game alongside @USAA. Recognizing the tradition & history of Military coins allows me to honor all my family and friends that have served. #USAAPartner pic.twitter.com/wCdmNAqOKY

— Ryan Jensen (@sinjen66) November 19, 2021
Enjoy this latest Ira Kaufman Podcast.