Dissing The Tom Brady Deep Ball
November 21st, 2021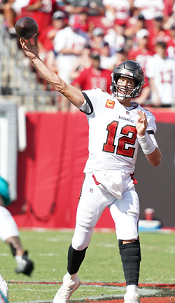 The Giants' Pro Bowl cornerback has a long history with the Bucs.
Tampa Bay fans know him well. He's James Bradberry, the former Panthers stud who left for big money in the Meadowlands after the 2019 season. Bradberry made his first Pro Bowl last season and already has three interceptions and 10 passes defensed in 2021.
Chatting with the New York media this week, per the New York Post, Bradberry seemed to throw shade at the guy leading the NFL in touchdown passes and the same guy who has more completions of 20-plus yards and 40-plus yards than Patrick Mahomes this season.
That would be Tom Brady.
Bradberry talked about the difference between covering Mike Evans now that the Jameis Winston era is over.
"I feel like Jameis does more deep balls than Tom Brady does just because I feel like Jameis Winston has a really, really strong arm,'' Bradberry said. "Tom Brady, he's also an elite quarterback, so he makes smart decisions back there quite a bit and he's very accurate as well. Just two different quarterbacks, but both of them are hard to play against, really."
Man, Joe sure hopes Evans makes Bradberry is made to eat those words.
And he may have a better shot to do that with Giants big-money starting safety Logan Ryan sitting out Monday's Bucs-Giants game with a case of the COVID. How dare Bradberry imply that Brady's arm is lacking!
Enjoy this weekend's Ira Kaufman Podcast.