Eight Straight Wins At Home
November 22nd, 2021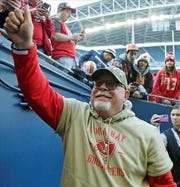 Once upon a Lovie, the Bucs lost every home game in a season (2014) and didn't have a winning home record in a season for 11 consecutive years.
Things have changed.
The Bucs are now riding an eight-game home winning streak, including the Super Bowl.
It's not a coincidence and Bucco Bruce Arians talked about the delicious home cooking after tonight's thrashing of the hapless Giants.
Of those eight straight wins, most have been blowouts and the only close game was on opening night of this season, a 31-29 beating of Dallas.
Finally, finally, finally, the Bucs have figured out their home turf and ended the incredibly long suffering of Bucs fans. It's a beautiful thing.
The Bucs have three home games remaining, against the Bills, Saints and Panthers. Winning those three should wrap up Tampa Bay's first NFC South crown since 2007. And the four left to play on the road? Only one is against a winning team, Sunday in Indianapolis.
Yes, the Bucs are well positioned to finish with 12 or 13 wins. And Joe believes the latter will be enough to secure the No. 1 or 2 seed in the NFC.