Doghouse Or Second Bye Week For RoJo
November 14th, 2021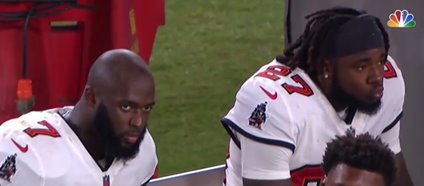 The box score is in on the Bucs' most upsetting loss since they were annihilated in England by Kyle Allen and the Panthers in 2019.
And those stats from today's ass-beating by Washington show that Ronald Jones never got a handoff or a touch. Joe never saw him take a snap.
It's notable because it hasn't happened previously and Bucco Bruce Arians often has talked about what a great one-two punch he has at running back.
Well, there's no one-two when one of the dudes is riding the bench.
Leonard Fournette had an unremarkable 11 carries for 47 yards. Certainly Fournette was ok, but his longest run was eight yards and he didn't have the consistent spark he's had in previous weeks. On one very early run, Fournette took the sideline rather than the contact he often embraces on his best days. That's never a great sign.
Not one carry or play for RoJo.
Joe doesn't think it's a coincidence or a fluke. The truth may not come out, but it certainly was surprising against a poor Washington defense.