Chris Godwin Will Not Practice Today
November 11th, 2021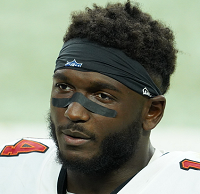 The mysterious Chris Godwin foot injury won't disappear today.
He will not practice and the Bucs will cross their fingers that he will be in good shape on Friday.
That was the message from Bucco Bruce Arians last night on SiriusXM NFL Radio. He didn't give much detail on Godwin's bad foot, which has Joe in a mild state of freakout.
When will the injuries stop?
"Yeah, that's going to be a different [injury]," Arians said of Godwin's bad foot. "We'll see how it goes on Friday. We're going to keep him off the foot until Friday and wait and see."
So if you're keep score on Bucs pass catchers. Gronk is messed up. Antonio Brown has a bone spur screwing up his bad ankle. Godwin has a bad foot out seemingly out of nowhere. O.J. Howard is still recovering from a repaired Achilles. Scotty Miller is testing his bad turf toe.
Joe hopes Tyler Johnson eats his Wheaties on Sunday.