Bruce Arians: Tom Brady Is "Begging For That RPO Stuff"
November 25th, 2021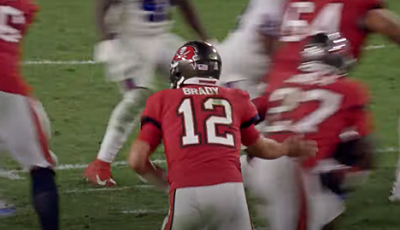 Bruce Arians' comments last night are extra interesting when you combine them with what Brady shared while "Mic'd Up" during the Bucs' Monday crushing of the New York Giants.
Against the Giants (screenshot above), Brady handed off to Ronald Jones running in front of him and to the right, as the Bucs set up for a run in that direction. The microphone in his uniform picked up Brady happily telling Chris Godwin and Mike Evans after that play. "I almost kept that. I almost kept that," Brady said, referring to him keeping the ball and running.
Yes, Brady wants to expand his repertoire.
Bucco Bruce Arians admitted it last night on SiriusXM NFL Radio.
"He's been begging for that RPO stuff and the zone read," Arians said of Brady. "I said, 'Maybe from the 2 yard line where you don't have to go very far.'"
So was the handoff to RoJo a run-pass option play? Maybe. Brady's been known to get what he wants.
Leave it to Brady to figure out how to add running to his game safely. Yeah, yeah, Tom, 11 yards. We got it.