Bruce Arians Praises The Cleanup Job
November 30th, 2021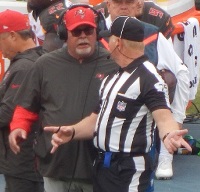 Before the Bucs hammered the Giants a week ago, Bucco Bruce Arians strongly implied on national radio there was one very simple fix to his team's two-game losing streak.
Clean up the penalties and fix the turnover ratio (aka protect the football), he said, and everything should get a lot better in a hurry.
That happened against the Giants and then the Bucs headed to Indianapolis. The dome there was sold out. The roof was closed. Joe was in the house and can attest to the noise.
Joe has heard louder in Atlanta, but the volume was significant and it was obvious communication was a challenge. Joe could even see Bucs players yelling at each other just to hear each other on the sidelines.
Despite the challenge, the Bucs only had four penalties for 44 yards (fewer than the Colts) and they won the turnover battle. The Colts had five cough-ups and the Bucs had two.
Scoreboard.
Arians referenced those in-game victories during his weekly sitdown with Dan Lucas of WFLA-TV yesterday.
"With only four penalties and, obviously, we had the two turnovers early, one cost points, we had to eliminate those. But we come out of the game with a plus-3 ratio and only four penalties," Arians said. "You're going to win a lot of games on the home and on the road that way."
In more simple terms, the Tampa Bay offense is so damn good that it can overpower everyone if it isn't bogged down by dumb penalties and bad ball security. Joe is all-in on the philosophy.