"You Almost Wanted To Turn It Off"
October 15th, 2021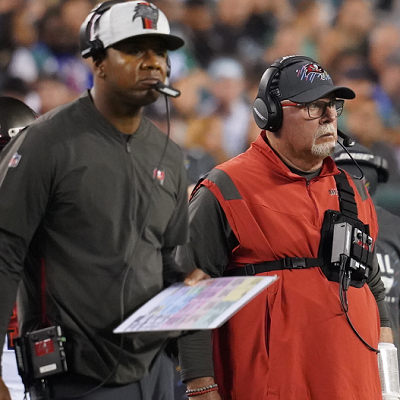 Our beloved Bucs again did not play a 60-minute game.
It's very exciting and a little frustrating at the same time.
In the first half last night the Eagles had just one play in Bucs territory — one!
Soon after, the Bucs had a 28-7 lead while the Eagles didn't hit 100 yards of total offense until the fourth quarter.
The Eagles offense was all over the place and flat out garbage. Former Panthers receiver Steve Smith, who attended the game, was railing on NFL Network about how the Eagles were running a bad high school offense.
Philadelphia sports radio is all over the Eagles today for their miserable playcalling and approach. And former All-Pro running back Tiki Barber took a very cerebral approach on CBS Sports Radio to further critique the overall mess that is the Eagles offense and its outclassed coaching.
Barber also talked about the Bucs and how their offense was so dominant early in the game, so precise. Barber said of the game, "You almost wanted to turn it off."
Midway through the third quarter, the Bucs led 28-7 after a long drive and Leonard Fournette's second touchdown.
And then what happened?
Joe will not overreact and dive deep into the Bucs losing a little fire after getting a three-score lead en route to their 28-22 win. And Bucco Bruce Arians' decision to go for it on 4th-and-3 on the Eagles-46 leading by two touchdowns with 9:04 remaining in the fourth quarter isn't worth the scrutiny.
No team is perfect, but it sure was odd to see so much air come out of the Bucs' balloon with a chance to choke out an opponent.
Joe watched the game with a fan who was thinking like Barber and stopped watching when the Bucs took a 28-7 lead. The next text Joe got from the fan read, "How the hell did that happen?"